Now you are at the most important step, renunciation of Malaysia Citizenship. I guess this is the step that worries most people. At least that was how I felt. No worries, today you are lucky because I am going to show you step by step to submit your renunciation application. 😁
If you are happen to stop by my website but you have not reach the step of Malaysia Citizenship Renunciation yet, then you may want to read my previous post on:
Make an Appointment
Due to covid-19 pandemic, visiting the High Commission of Malaysia, Singapore is strictly by appointment only. You can make your appointment via email to the consular section at consular@mhc.org.sg . Remember to attach the approval letter to show that you are at the final stage of Singapore Citizenship application. 
A piece of advice here, you should make your appointment as soon as you complete the Singapore Citizenship Journey stage. This is to avoid any crashing to your scheduled appointment date to ICA for citizenship registration. I was caught into this date crashing situation. 😓 
For my case, I sent an email to the Consular section to make an appointment on 22 July 2020 and I got the reply on the same day. However, the appointment date I got is on 28 August 2020, which is way behind my appointment date to report to ICA, on 17 August 2020.
Without further delay, I quickly wrote an email to ICA (ICA_Citizenship_Unit@ica.gov.sg) to request an extension to my appointment. Luckily, I received the reply from ICA (three days later) that my appointment is rescheduled to 07 September 2020. It was really a big relief to me when I saw that email! 😅
Please make your appointment earlier to avoid situations like me!

Required Documents
When the High Commission of Malaysia replies to your appointment date, there should be a checklist attached together for the required documents. Alternatively, you may visit the High Commission of Malaysia, Singapore website for the required documents list.
Please take note that the photocopy and photo booth services are not available at the premises during Covid-19 period. So, make sure you get ready for all the required documents beforehand. 
On the Submission Day
Final checking before you depart:
Make sure all documents are in place.

Print out a copy of your appointment email for exchanging the entry pass. Softcopy on your mobile phone is acceptable too. 

Bring along a black ink pen.
When you are at the entrance of the Malaysia High Commission, proceed to the security hut to exchange your entry pass by showing your appointment email to the security guard. Then you can proceed to the consular section. In the consular area, you should see an officer sitting next to the queue ticket machine. Tell the officer that you are here to renounce your citizenship and he will give you 2 forms, Borang-K and MY-RN1.
Below is a sample of Borang-K for your reference.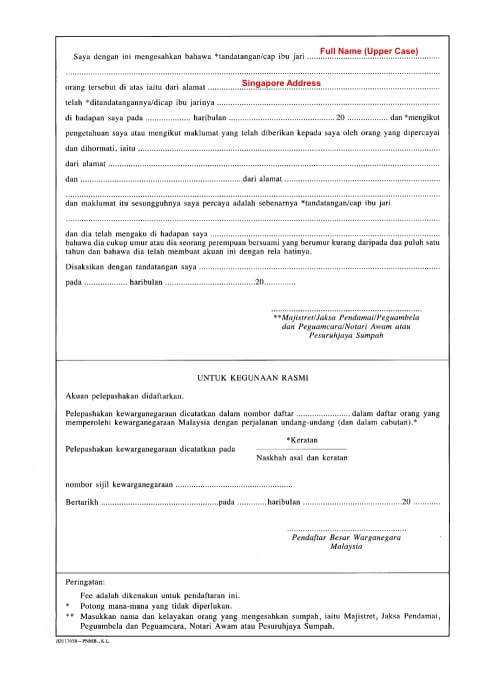 Fill out the forms carefully with black ink pen. Once completed, hand back the forms to the officer for verification. If you do everything correctly, the officer will give you the yellow colour original Borang-K. Fill out the same information as you did earlier. Remember to use a black ink pen.
Once again, hand back the completed yellow Borang-K back to the officer for verification. If you have done it correctly, the officer will ask you for all the required documents and clip them together for submission. Lastly, the officer will issue you a queue ticket. Sit back and wait for your number to be called.
Proceed to the counter when your number is called and submit all the required documents. Then sit back again to wait for your number to make payment. The payment amount is S$10. Make sure you prepare the exact amount in cash. They only accept cash and no change.
Collection Slip
After the payment, you will receive a collection slip. This is for you to collect the MY-RN1 form after 3 working days between 2:30pm to 4:00pm. You can find the collection date on the collection slip too and you don't have to make an appointment for the collection. 
I collected my MY-RN1 form on 01 September 2020. The process is fast, within 15 minutes. Keep the form properly because you will need it for the registration of Singapore Citizenship at ICA. As for the Borang-K, the approval process takes about 8 months time. You will receive a letter from the High Commission of Malaysia, Singapore when it is ready for collection. 
Alright, after this stage you are all set and ready for the next step, Singapore Citizenship Registration and take the Oath of Renunciation. 
Closing Words
I was so puzzled when I was at the stage of Malaysia Citizenship Renunciation. It felt like a bit helpless 😞. Thus, I decided to note down and share my experience. I hope my sharing is able to help you somewhere. Lastly, thank you for stopping by my website and stay tuned for my next blog post on "Singapore Citizenship Registration and take the Oath of Renunciation".
P.S. Stay tuned for my future posts on other steps in the Singapore citizenship application process. Subscribe to my mailing list so that I can notify you of my new blog posts.