07 September 2020 is a special and important day for me and my family (my wife, son, and daughter). We will be going for the Singapore Citizenship Registration and take the Oath of Renunciation. This is the day we can officially call ourselves Singaporean. On that day, we woke up early to get ready so that we will not be late for our appointment at 10:45am. We also make sure all the required documents are with us before departing. Before that, let's go through the required documents you must prepare.
Required Documents
All the required documents are stated clearly in a checklist on the final stage approval letter. Please go through it carefully. For the passport-size photographs, please DO NOT use the copies that you used during your citizenship application. You should get a new one and no more than 3 months. If you intend to apply for a Singapore passport after the registration, I suggest you get an electronic copy as well so that you can use it for passport online application.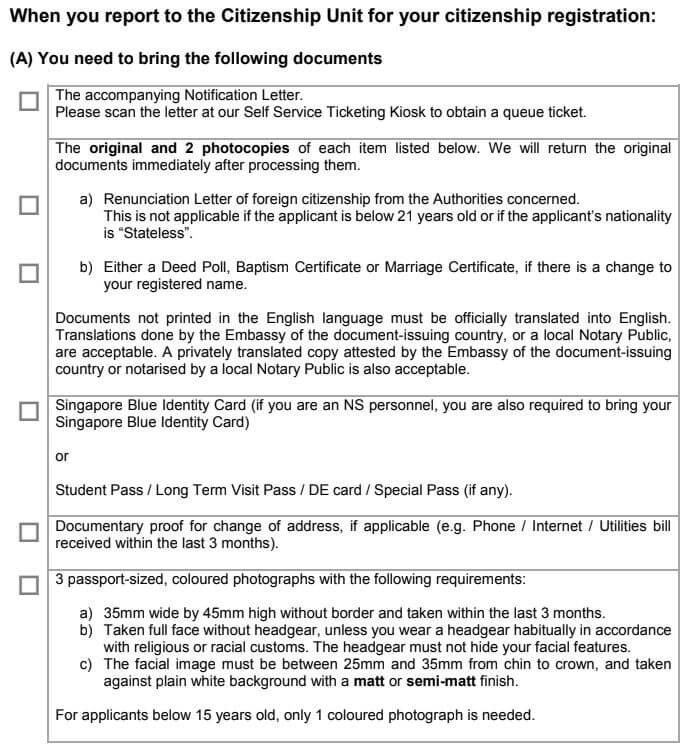 Payment
The fee for each applicant is S$80. S$70 is for issuance of Singapore Citizenship Certificate and S$10 is for registration of a Pink Identity Card (IC). Registration of a Pink Identity Card is applicable to applicants who are 15 years old and above. Fee payment is by NETS.
Attire
Almost forgot to mention about the attire. Besides the registration process, you will be taking the Oath of Renunciation, Allegiance and Loyalty on becoming a Singapore Citizen. This is a solemn occasion, thus casual wear like t-shirt, shorts, slippers, miniskirts, and jeans are strictly NO NO!
We are ready now …
It was 10:30am at ICA, we arrived slightly early. We proceeded to the Citizenship Unit at level 6 to get our queue ticket at the self-service ticketing kiosk by scanning the barcode on the final stage approval letter. After waiting for about 20 minutes, our number was called, and we proceeded to the counter to submit our documents.
In this process, our blue IC was scrapped with a hole punched on it before returning to us. We did not receive our Pink IC and Citizenship certificate. Instead, we received an IC collection slip, it serves as a temporary IC. The Pink IC and Singapore Citizenship Certificate will only be issued to us during the citizenship ceremony. There will be an invitation letter send to us to attend the ceremony. However, we could collect the citizenship certificates for our children 3 days later.
Next, we sit back to wait for our turn for taking the Oath of renunciation. After the Oath taking, basically we have completed the citizenship registration process. Now, we are officially a Singaporean! Hooray!!! 🎉

Lastly, the officer also reminded us to scan and submit a copy of our Renunciation approval letter (Borang-K) once we received. We can either email a copy to ICA_Citizenship_unit@ica.gov.sg or upload to MyICA portal. 
Closing Words
Overall, the whole process of Singapore Citizenship registration is quite fast, we completed it within one hour.  We are also eligible to apply for a Singapore passport and we applied ours the next day. In the next blog post, I will be talking on how to apply for a Singapore passport online. Stay tuned for my next blog post and have a nice day! 😊
P.S. Stay tuned for my future posts on other steps in the Singapore citizenship application process. Subscribe to my mailing list so that I can notify you of my new blog posts. You might want to check out my earlier post on "My Singapore Citizenship Journey".