On 26-Mar-2020, I received an email from ICA Citizenship Unit that there is an update on the status of my application for Singapore citizenship. I was so nervous and worried because there are only two possibilities, either it is approved or rejected. Without further ado, I quickly log on to ICA portal to check. Bravo! 🎉 The status shows as Approved-in-principle! After nine months of waiting and eventually I got the approved-in-principle (AIP) for my Singapore citizenship application. I am now eligible for the next step to complete the Singapore Citizenship Journey. 😄
From the ICA portal, you can download the approved-in-principle letter where you can find the instructions for the tasks you must complete in this stage. You will also find the citizenship roadmap and useful FAQ to get answers to your queries quickly.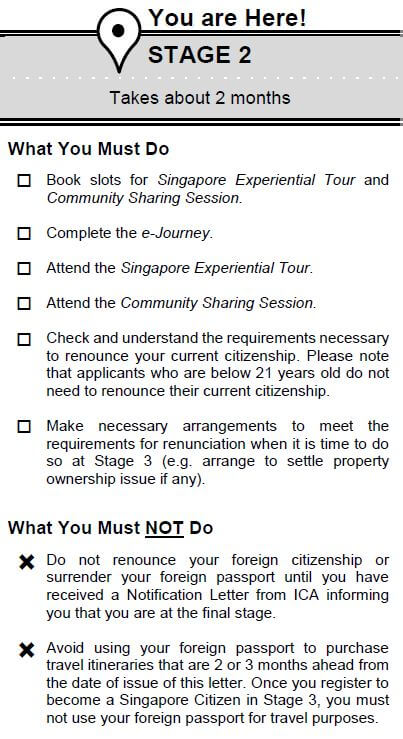 Singapore Citizenship Journey Portal
The next step is to complete the Singapore Citizenship Journey. You must complete the journey within two months from the date stated in the letter. You need to login to the Singapore Citizenship Journey portal with your SingPass ID to complete the process. 
The Singapore citizenship journey comprises of 
Singapore Citizenship e-Journey

Singapore Experiential Tour

Community Sharing Session
Singapore Citizenship e-Journey
The e-Journey is an online journey with a series of video that allows new citizens to learn about Singapore. It includes information on our history and development as a country, key national policies, Total Defence, as well as our efforts in building a cohesive and harmonious society.
Singapore Experiential Tour
Singapore experiential tour is a half-day tour to bring new citizens to key historical landmarks and national institutions. You will learn about Singapore history and how we overcome national challenges in the different domains.
Community Sharing Session
Community sharing session is an event for you to meet fellow residents and Grassroots Leaders (GRLs) from your own constituency. During the session, you will reflect on your journey towards citizenship and share your hopes and aspirations for Singapore. You will also meet other new citizens and learn how they can actively participate in the community.
GRLs and Integration & Naturalisation Champions (INCs) from the People's Association will also share their experiences living in a multi-racial and multi-religious society, and provide valuable information to help new citizens better settle into their community.
However, due to circuit breaker constraints, my Singapore citizenship journey was completed entirely online. In my case it was in the earlier stage where the circuit breaker just started (early April-2020). During this period, most activities were suspended or restricted. 
Final Stage Approval
After completing the Singapore Citizenship Journey, you will be receiving an email from ICA stating that there is a status update of your application for Singapore Citizenship. Login to the ICA portal and you will see the final stage approval letter.
From the letter, you can find the appointment date to report to ICA for Singapore Citizenship registration and to take the Oath of renunciation. So, the next step is to renounce your Malaysian Citizenship at the Malaysia High Commission.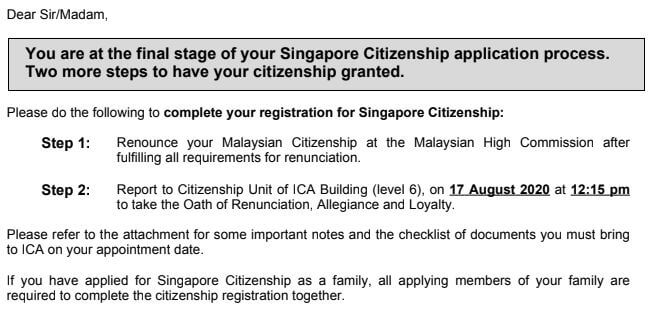 Closing Words
Generally, I would say this is an introductory section for new citizens to get a better understanding of Singapore government structures, culture, and history. Personally, I enjoy this section very much and I learnt new things! Although I have been in Singapore for more than 20 years, there are still many things I am not aware of. 😛
Overall, this is a very informative section, straight forward and nothing hassle. I hope you will enjoy it too. Lastly, thank you for stopping by my website and stay tuned for my next blog post on "Malaysia Citizenship Renunciation".
PS: Stay tuned for my future posts on other steps in the Singapore citizenship application process. Subscribe to my mailing list so that I can notify you of my new blog posts.